I started doing yoga regularly just over a year ago and have grown to prefer the Hatha style: emphasis on the breath and meditation, and a focus on creating balance between strength and flexibility through maintaining asanas (postures). I adapted some of the postures I learned in my classes to help me release tension from my spine, stretch my legs, and let go of tightness in the upper and lower back while in the car — but they can be used in any confined space: cars, airplane seats, buses, office cubicles…
Here are some postures to help you stay limber on your next road trip: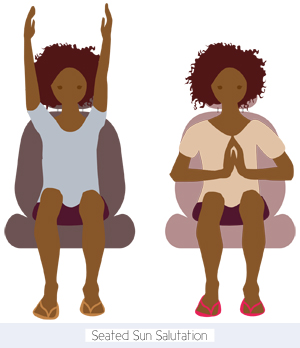 Seated Sun Salutations
(Surya Namaskara)
Inhale to bring your arms up as high as you can get them. Exhale and bring hands to prayer position. Let your arms come to your side.
Inhale, and with a straight back lean forward at the waist into a Forward Fold. Exhale to let the head and arms relax. Inhale while returning to a sitting up position and sliding your arms along your sides and into the air. Exhale to prayer position.
That is one Seated Sun Salutation. Perform as many as you feel comfortable doing.